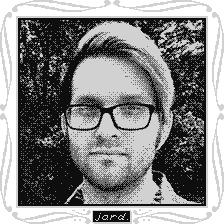 jard,

aka NPC, aka 89, etc. etc.
///

///
in early 2006, i downloaded a cracked version of FL Studio 4 and made some of the worst music. just absolutely awful. i had no musical background whatsoever, but i was playing a lot of Dance Dance Revolution, and Stepmania, and thought, hey, i can do that, right?
fast forward to today, still using FL Studio (21 now, and legit, i promise!), almost completely self taught (still learning new things pretty much every day!), and now my music is not the worst. (in fact, it's actually pretty alright!) not really playing much DDR anymore, though. (i'm old! bad bones! yeeeowch!)
///

///
i've had the opportunity to write music for a few video games, grown as a part of the vgm cover community, and released many hours of original music under a bunch of different aliases;
- NPC (my main project. all of my video game covers and the majority of my original works, in styles spanning from drum and bass, to chiptune, to rock and metal. eclectic and varied, and very energetic.)
///Example: You, Me, and the Void

- 89 (my main side project. primarily focused on lofi hip hop, ambient/downtempo stuff, jazzy chords, etc.)
///Example: Here, Right Now

- THE MARI

NETTE (!!!LOUD!!!)
///Example: THE MARIØNETTE

- butt stunts (mashups/audio garbage. goofs i make to make my friends either laugh uncontrollably or get real mad)
///Example: 15 count KEEP FROZEN COOK THOROUGHLY NET WT. 7.5 OZ (212g)
and that's just the stuff that i actively work on! i've went by a LOT of aliases over the past few decades, but NPC's the main one that really stuck through it all.
///

///
if you've made it this far, you've probably heard some of my stuff somewhere, at some point, and wanted to know more. thank you. if you enjoyed what you heard, don't be afraid to let me know, and make sure to check out the rest of my stuff, either on my bandcamp, or through various streaming services (spotify, apple music, etc)
alright, well, seeya later!
///

///
All artwork and graphics designed by NPC.

Site code built/modified from Sadness' Layout Builder.

Fonts used on this site by Damien Guernsey.

Be excellent to each other.